"I take care of my business, and I let Elavon look after the payments." Kevin Doyle, owner

The business
Ireland's reputation for nurturing music from the grass roots is legendary. Helping to foster the talent behind it is Making Music, nestled in Gorey in County Wexford. The music school and instrument retailer was founded by Kevin Doyle, himself a drummer and guitarist for hit wedding band Fusion. Kevin offers guitar, piano and violin lessons, and is also known across Ireland as a top supplier of high end instruments including Maton and Martin guitars, and Pearl drums. Making Music also offers PA systems and lighting for parties and gatherings.
The challenge
When the pandemic forced Making Music to shut its doors, revenue initially dropped 100 per cent. However, the business still had a presence on social media. After a few weeks, enquiries for instruments and other equipment started coming through Facebook messages, emails and phone calls. Lessons moved from being in-person to video calls. Some credit card payments were taken over the phone, while other customers chose to pay cash on delivery.
Embracing the change and bracing for the risk of another lockdown, Kevin needed to adopt a way of bringing the in-store experience to an online world.
"It's so hard for a small company to survive in the current climate. While having the physical store for that one-to-one interaction, our digital presence with the online shop and social media became a vital lifeline."
The solution
Like many small businesses, Making Music has for a long time had only a basic brochure style website built to raise awareness of the brand. However, it wasn't earning its keep, nor powerful enough to support the business as things needed to evolve.
"Ecommerce was always the elephant in the room," admits Kevin.
Kevin didn't have the time, skills or confidence to build an online shop himself, so Elavon's eShop was the perfect solution.
"eShop is quick to set-up and easy-to-use," says Kevin.
"It allowed me to start selling online without the need for extensive technical knowledge or having to spend vast amounts on software or hardware".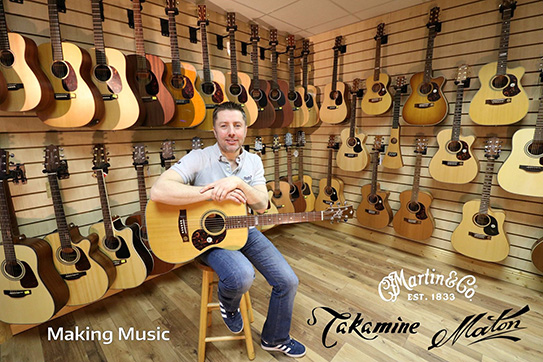 In-store Making Music offers more than a thousand product lines, but online Kevin has initially set up makingmusic.ie with around 200 of the best-sellers.
"We want anyone who has ever been in our store to feel as if they are in the physical store while shopping online. I think that's important," says Kevin.
"Previously, we just had an awareness page. Now, with eShop, I am able to mix Facebook, Instagram, the website, and ecommerce all into one place. It's ticking all the boxes for me. 
"When people want to get in touch, we can schedule an appointment and meet them anytime; in the store, during office hours or outside of work. That is just amazing."
"The eCommerce side of it is very powerful and will take some weight off my shoulders. I feel more at ease and confident to work behind the scenes and update the products that we have coming in.
"An online shop is always a bit of work in progress, and it's going to grow with our business.
"I am actually more excited about this than I was about starting on Facebook, and that was a huge project. Now I am just thinking, 'This is going to be amazing. This is going to really work for Making Music.' I can't believe how good my new website and shop are looking and I am very happy about it.
"This is everything and more."
Why Elavon?
Kevin has been a customer of Elavon's since he set up Making Music in 2012. When our eShop was introduced to him, he immediately saw its potential.
"The fact that all of the payments are going through Elavon is a convenient factor. That took a lot of pressure off my shoulders. I don't have to worry about ensuring it meets all the security requirements, that's already taken care of. When I have questions, Elavon follow up and make things clear to me.
"I take care of my business, and I let Elavon look after the payments."
To discover more about Making Music, visit: www.makingmusic.ie