We explored, in an online survey with Ipsos Mori, the spending habits and plans of 1,101 UK adults.
Overall, across all demographics, more than two thirds of respondents (68%) said they would actively seek to use card or contactless payment methods when paying. More than a fifth (22%) said they would use cash or card and contactless payments equally.
Here, we take a deeper dive into what respondents told us about their payment type preferences – broken down by age, income bracket and geographical spread. For the full study overview, see our UK summary.
Does age have a bearing?
Paying by card and contactless methods is considerably more popular among those aged under 35 than the UK average (68%), rising to above three quarters (77%) of those aged 16-24 and almost the same (76%) for those aged 25-34.
It would be wrong to assume willingness to use digital was unique to younger age groups, however: it was the preferred option for all age groups.
The keenest to use cash are those aged 45-54 (12%), although they were over five times more likely to use card and contactless payments (62%).
The age group least likely to use cash is those aged 25-34 – at just one in 20 (5%).
"We may already be witnessing the final generation of widespread cash use in the UK," says Simon Tune, Commercial Director for Elavon Europe. "Our research not only confirms younger age groups are more willing to pay with digital methods, but it also clearly demonstrates paying by card or contactless is now the preferred option for all age groups – and by a considerable margin."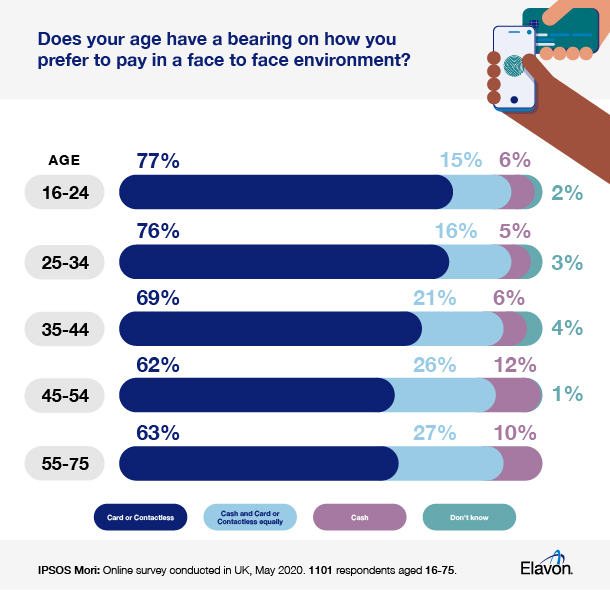 Is what you earn relevant to how you pay?
As with age, paying by card and contactless methods was by far the most popular preference, irrespective of income – even including those not indicating their earnings.
As income increased, so too did the eagerness to pay using the digital methods of card or contactless payments. It was 71% for those in the £20,000-£34,999 bracket, rising to three quarters (75%) for those earning £35,000-£54,999, and rising further again for those bringing in £55,000 or more (77%).
The most willing to pay by cash are those earning up to £19,999 (13%), compared with the UK average for our study of 8%.
"Whatever the reason for cash's popularity among this income bracket, it shows that after the coronavirus pandemic is over there may be a need for cash in certain markets and verticals where those on lowest incomes shop most frequently," says Simon.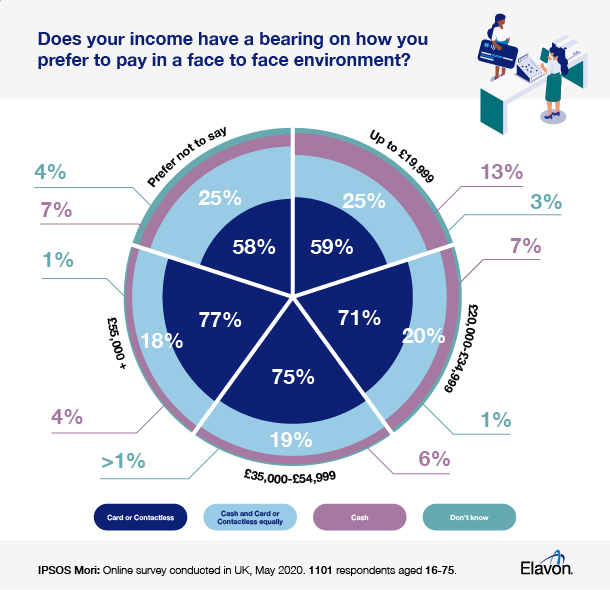 Does it matter where you live?
Of the nations that make up the United Kingdom – Scotland, Wales, Northern Ireland and England – respondents in Northern Ireland were by far the keenest to use card or contactless. Some 83% cited it as their preference – 15% above the UK average for our study (68%).
Almost four out of five (79%) of respondents in Scotland prefer card and contactless payments.
Wales was on par with the UK average (68%) for those actively seeking to use card and contactless payments.
Wales and Scotland were the same as one another (6%) when it came to cash as a preference – just below the UK average (8%). Not a single respondent in Northern Ireland chose cash as a preference.
England, when considered in isolation, two thirds (67%) saw card and contactless payments as the most popular option, with fewer than one in ten favouring cash (9%).
Within England, there are also regional variations of note. Those in the southwest are keenest to use card and contactless payments (72%).
Those in the northeast also favoured cards and contactless, but – at 55% – they appeared to be the least enthusiastic when compared to the rest of England.
Meanwhile, the two English regions with the strongest preference for cash were London and Yorkshire & the Humber (both 12%).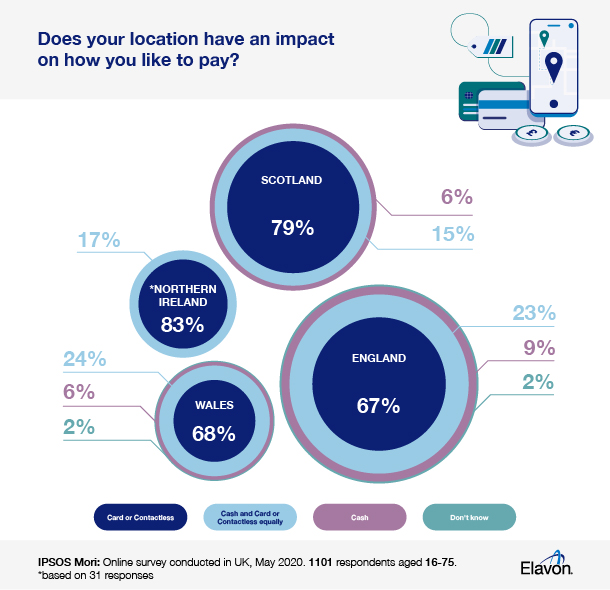 Simon's summary
"Across all demographics the most widely preferred payment option, by some margin, is consistently card and contactless, according to our research.
"Trends to note are that those aged under 35 are the keenest to use digital payments; willingness to use card or contactless increases as income does; and in no part of the country does the preference to use cash, on its own, even come close to the preference for digital payments.
"What does all this mean? Well, knowing the payment preferences of your target audience means you can be best prepared to offer and accept the methods your customers want to use. Doing so in a face-to-face environment can convert browsers into buyers, while online it can reduce cart abandonment. In both cases, it could even see an increase in the value of each basket or order, if customers are confident throughout the purchase process that they can pay with their preferred method.
"If your business doesn't accept the full range of card or contactless payments, then what are you waiting for? Talk to us."
Other country research that might interest you:

We also broke down these demographics for 1,000 adults in Ireland, 1,093 adults in Poland and 1,088 adults in Germany.
The research was conducted on i:omnibus, Ipsos MORI's online Omnibus.
·               Online interviews were carried out amongst adults aged 16-75 in the UK.
·               Our respondents base includes 1,101 adults who completed the survey between 22-25 May 2020.
·               The sample obtained is representative of the population with quotas on: age, gender, region and working status.
·               The data has been weighted to the known population profile by age, gender, region, working status and social grade to be nationally representative and reflect the adult population of the UK.