Elavon Europe, with Ipsos Mori, explores how the pandemic and lockdown restrictions have impacted UK spending habits and plans - from holiday types to payment preferences.
Coronavirus feels like it's impacted almost every facet of our daily lives. Does that include what we buy and how we buy it? Of course it does!
So, on behalf of Elavon Europe, Ipsos Mori asked 1101 adults aged from 16-75 in the UK about spending habits and plans, and how those may have changed as a result of the pandemic.
The survey was carried out online in May 2020.
More than half (52%) said they had increased their online spending during lockdown.
More than two thirds (68%) said they will actively seek to use cards and contactless payments following the pandemic.
And, as you'll see, when it comes to our priorities on spending once restrictions lift, a get-away in one form or another was by far the biggest priority – even more so than getting that long-awaited haircut!
Online spending since lockdown
Almost all (96%) of our survey respondents said they shopped online. That's hardly surprising, given the survey was carried out online, but if your business doesn't cater for online shoppers, are you missing out? Talk to us.
We asked: "As a proportion of your overall spending, how has your online spending changed, if at all, compared to before the start of 'lockdown'?"
Some 52% said they have increased their spending online during the lockdown. 10% said they had reduced their online spending.
More than a quarter (28%) said they had increased their online spending just a little, while Just under a quarter (24%) admitted their online spending had increased a lot.
One in three people (33%) said they had not changed their online spending at all.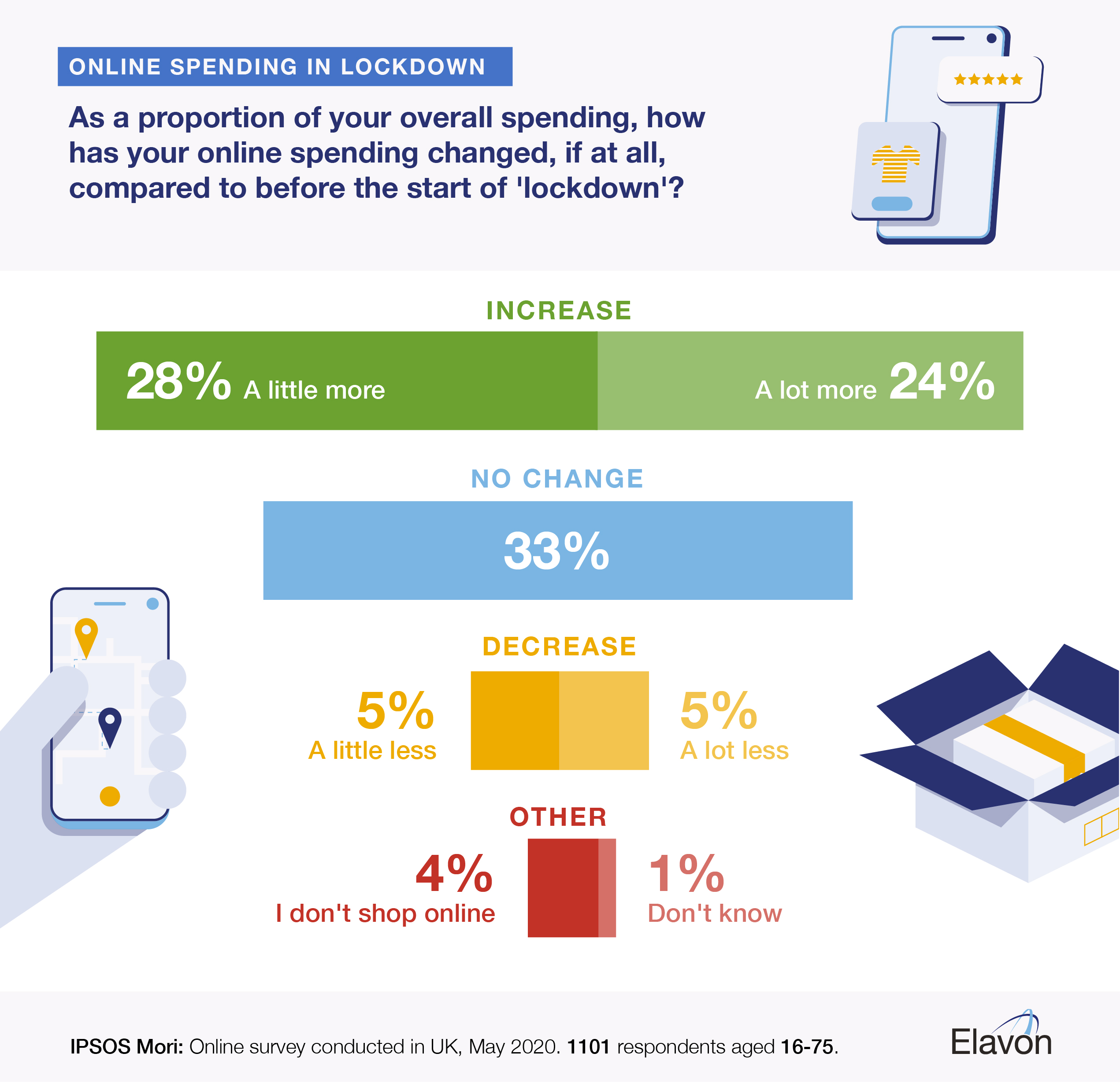 Tap to pay or splash the cash?
We asked: "Thinking about how you will pay for things in shops or places in the future once the coronavirus pandemic is over, what do you think will be your preferred method of payment for everyday in-person purchases?"
More than two thirds (68%) said they will actively seek to use card or contactless payments after the pandemic.
More than a fifth (22%) said they will use cash or cards and contactless equally going forward.
Protecting your staff and your customers by minimising interactions is crucial to social distancing. That needs to be included in your day-to-day operations going forward, and for however long social distancing restrictions remain.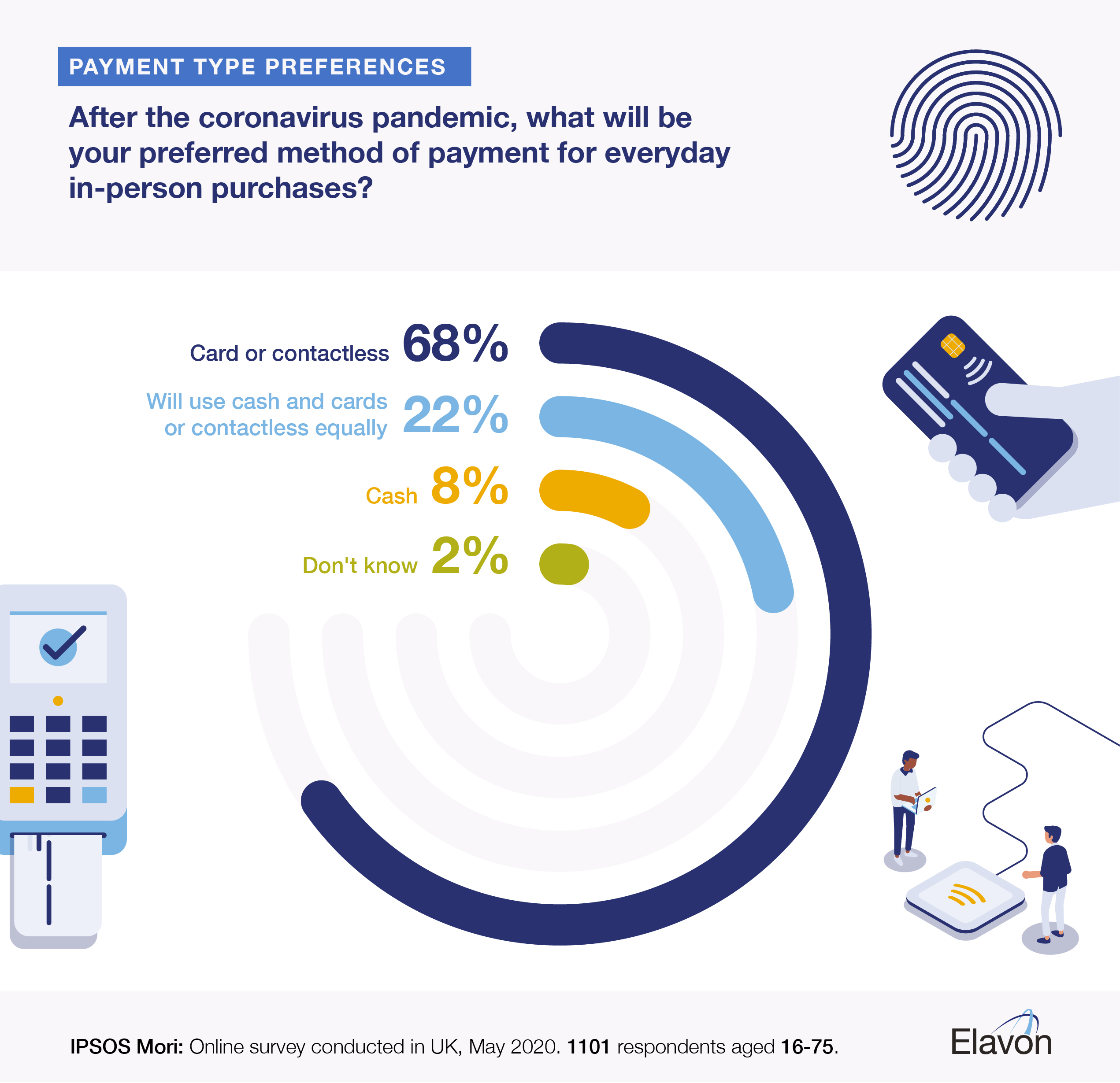 Post-pandemic priorities
We asked: "Imagine the coronavirus pandemic was over in 3 months time and there were no restrictions in place, if anything, what would you prioritise spending money on?
First, we asked respondents to choose up to three priorities.
Almost two thirds (65%) listed outings, in all their forms, amongst their top three. Outings included daytrips, visits to a pub or restaurant, mini-breaks of two to three days away or holidays lasting three days or more.
While fashion sales moved online, and offline we came dangerously close to discovering everyone's real hair colour, just over a third (36%) put their personal appearance in their top three priorities. That included the categories hair and beauty, and new clothes or accessories.
Coming in third, was health and wellbeing. Just over a third (34%) put sport, including visiting the gym, or healthcare, including a visit to a dentist or opticians, as a priority.
When we asked which of their choices was their most important, one in five (20%) said a holiday or mini-break was their ultimate priority.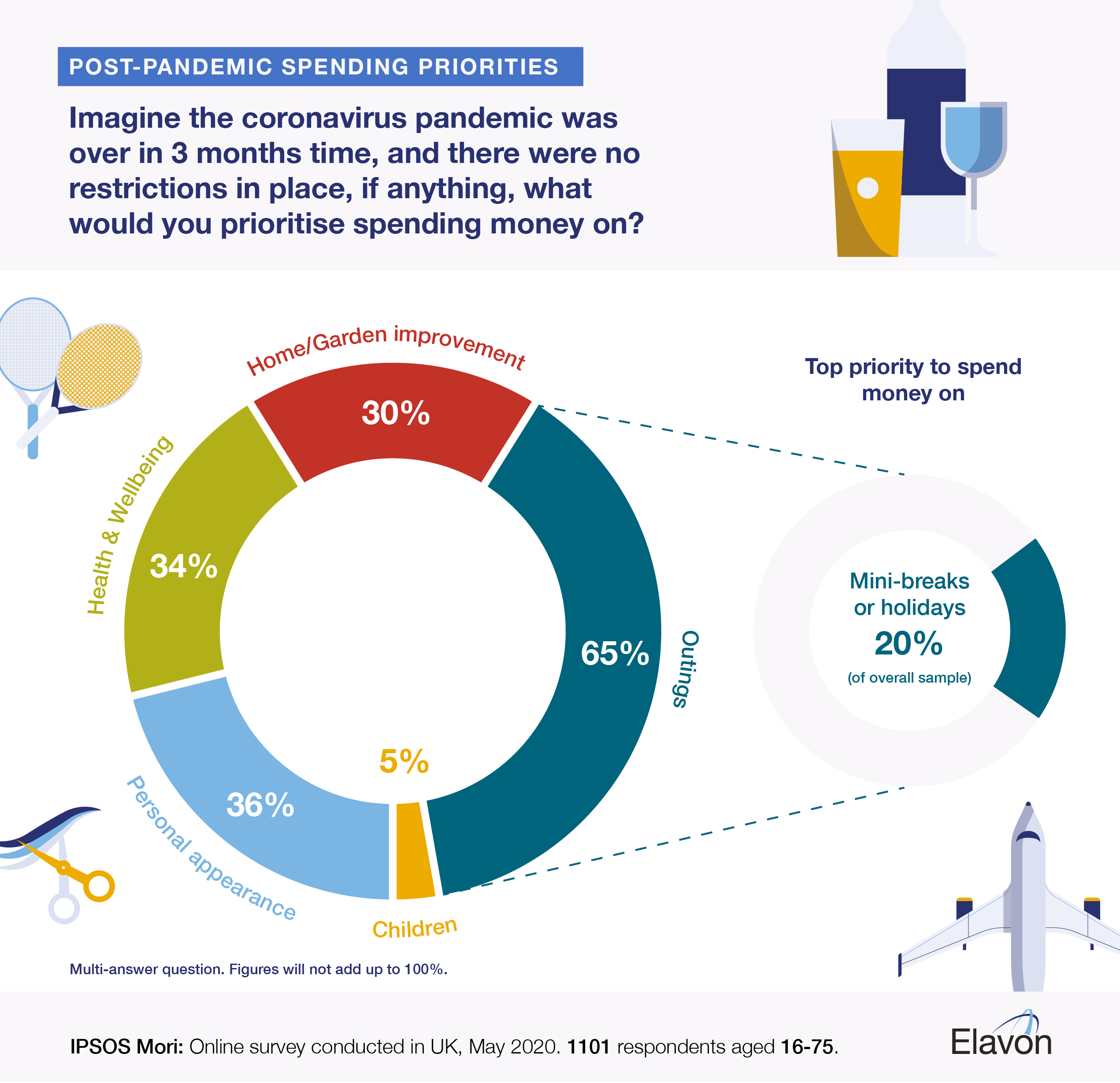 Get me out of here... on a plane!
Well, almost. Because more than a third (35%) said they're not planning to take any type of holiday or mini-break at all in the first six months after travel restrictions are lifted.  
Of those planning a mini-break, lasting 2-3 days, 81% said they'll be staying within the UK, with almost a third of those (30%) planning to literally stay at home for that time off.
When it came to a longer holiday, lasting three days or more, 54% of respondents said they plan to take time away within the UK, and 62% intend to travel abroad. Some are doing both. Of those leaving the country, three quarters (75%) say they'll get on a plane to do it, while almost one a fifth (19%) say they'll take the car to leave the UK.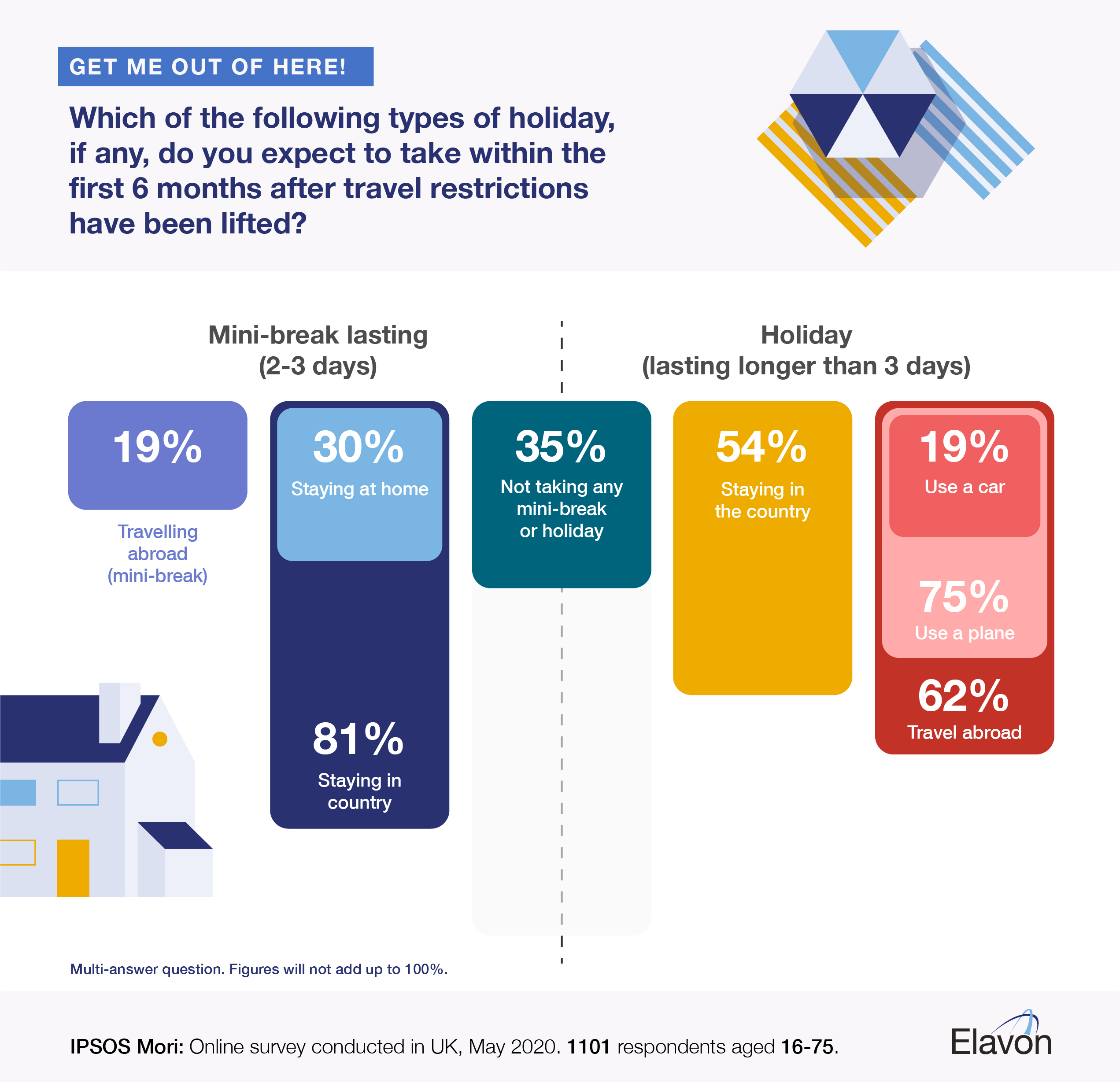 Summary
The research shows some key changes in consumer attitude towards online shopping, with more than half (52%) of respondents confirming they increased their spending online compared to before the start of lockdown restrictions. It's not clear from the research how many, if any, were new to online shopping, but giving your customers a seamless online payments experience in the past few weeks may, in the forthcoming months, encourage a rise in transaction volumes or result in larger shopping baskets.

68% also confirmed they will actively seek to use card or contactless payments in the future. Social distancing may accelerate the pace of evolution in customer shopping habits and payment preferences. An evolution we can help you adapt to.
·         The research was conducted on i:omnibus, Ipsos MORI's online Omnibus.
·         Online interviews were carried out amongst adults aged 16-75 in the UK.
·         Our respondents base includes 1101 adults who completed the survey between 22 May-25 May 2020.
·         The data has been weighted to the known population profile by age, gender, region, working status and social grade to be nationally representative and reflect the adult population of the UK.