Global changes, economic volatility and massive shifts in tourist behaviour have impacted holiday spending habits.
It's vital for UK hotels and restaurants to stay up to date with major trends, so we have some top tips to help you keep up - and avoid missing out.

In headline terms, 2018 is looking good for UK tourism. By the time we get to December, overseas visits are expected to break through the 40 million mark for the first time ever, according to VisitBritain [1]. And visitor spending is forecast to reach £26.9 billion, up nearly 7% on last year.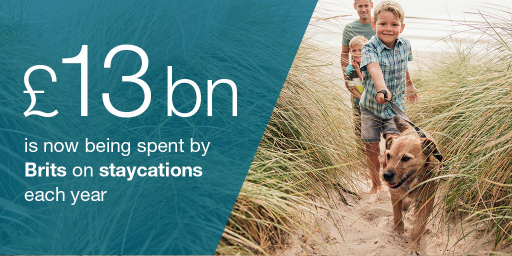 The low Sterling exchange rate is drawing overseas visitors. But it's also a major reason why many UK residents are opting for staycations. Researchers found that 93 per cent of Britons are going on at least one UK break every year, spending nearly £13 billion [2].
Some interesting headlines, but delve a little deeper and you start to see fascinating facts and quirks.
Booking behaviour

Short breaks seem to be lasting longer. Searches for long weekends are up 167%[3] and holidays of four or more nights are expected to increase [4]. Meanwhile, another survey found that over-55s are the most spontaneous age group and are the most likely to book a UK trip less than one month in advance [2].
Hotels and restaurants at seaside towns and resorts should be seeing a lift in trade right now. Studies found that 20% of tourists are planning to head for the coast, up from 13% last year [4] and this is only likely to increase thanks to the warmer weather. Happy memories can play a huge part too. Last year, 42% of UK holidaymakers said their destination was influenced by where they went as a child [4].
Good reviews bring rewards
Research shows that - more than ever - reviews are having a direct impact on takings in hotels and restaurants.  Over half of holiday-makers now regard them as an accurate reflection of a destination, and a similar share would change a decision after seeing a bad review [4]. Good experiences shared by friends can really inspire too. Google partner WebpageFX reports that 52% of Facebook users said their friends' photos inspired their own travel plans [5].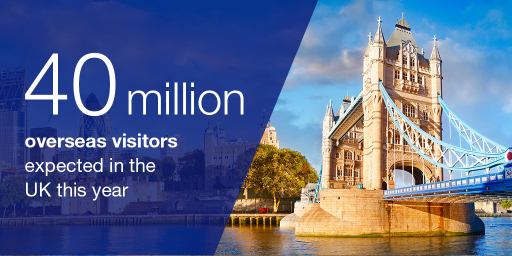 Heading north

Historically, it's London that has seen the lion's share of overseas tourism and in research, 81% of overseas visitors planned to include London in their itinerary. However innovative partnerships, like the one between Virgin Atlantic and Marketing Manchester to promote flights between the USA and the North West, are encouraging international visitors to look outside the capital – and it's working, with a 21% year on year increase in US visitors to the North West in 2017 and commitment by Virgin Atlantic to a further 20% growth through US routes from Manchester Airport [6].
Paying your way
Whether your customers come from the UK or overseas, more will be thinking about using alternative payment methods this year — in keeping with global trends. Allowing all customers to use Apple Pay, Android Pay and other electronic wallets is a good move. And enabling overseas tourists to pay in their home currency, so they know exactly how much they're spending, is an even smarter idea for hotels and restaurants right across the UK.
Sources
[1] 'Tourists to UK forecast to spend record level in 2018' - VisitBritain
[2] 'Staycation nation: This is how much Britons are spending on UK holidays every year' - Wonga survey in the Express
[3] '10 of the biggest travel trends for 2018, according to Pinterest' - Evening Standard
[4] 'Holiday Trends 2018' – BDR
[5] 'Social Media, Mobile, and Travel: Like, Tweet, and Share Your Way Across the Globe' – WebpageFX
[6] Manchester Airport delivers strong US growth – Marketing Stockport