What was your first job, and how was it?
My first job was working with my mother, a leading fashion designer in India creating traditional Indian attire. I was doing my undergraduate in Physics and Maths at that time, so completely unrelated. I got involved in everything to do with the business from procurement, design and manufacturing to sales and marketing, including fashion shows and photoshoots, dressing up top models. It was the perfect outlet for my creative side, even if it was a lot of hard work at times, and gave me first-hand experience of the real world and running a small business.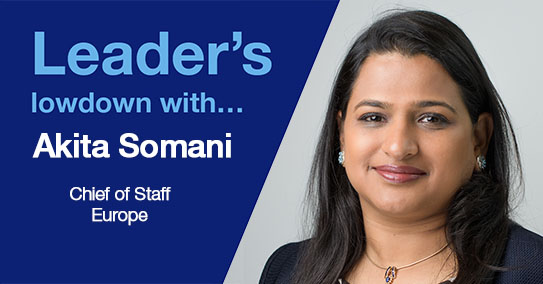 What's the best piece of advice you've ever been given?
Never be afraid to be YOU and take risks in your career. As I moved through my career, sometimes I felt I wasn't completely ready for the next challenge when other people strongly believed in me and egged me on. Being true to myself, recognising my strengths and development areas, and taking those chances mostly worked out well and further helped build my confidence and support network.

If you could step into the shoes of one businessperson for the day, who would it be and why?
Bill Gates inspires me in more ways than one: the successful business he built from scratch giving so many of us a reason to follow our passion; his philosophy around family and, most of all, his commitment to philanthropy through the Bill & Melinda Gates Foundation and making a real difference each day.

In three words or less, how do you define success?
Self-fulfilment and social impact.
How do you motivate yourself and your staff?
A strong vision and empowerment motivate me the most and I try to build that same combination for the teams that I work with, which effectively aligns us all to the same objectives and powers collaboration. Recognition in different forms, from a simple thank you to formal awards, plays a huge role in keeping teams motivated and we do that really well at Elavon. I also love the problem-solving aspect and demanding deadlines that accompany most of my work; I thrive in those situations.

How do you relax?
Social interactions with family and friends are a big part of my life. And outside of that I enjoy reading books and articles, watching movies, experimenting with new bars and restaurants and a spot of Reiki (am professionally trained!).

What would be your ideal job and why?
Communications and Engagement: my passion centres around writing and people. A job that involves communications in any form and building relationships, internally or externally, socially or professionally, would appeal the most to me.

What are your aspirations for the future of Elavon?
Being a growth engine and a force for innovation. We are making significant strides towards both with the organic growth in our business and the acquisitions we are making. We have a talented workforce and continuously build upon that and we are constantly looking for avenues to do things differently and better. I feel very confident about a bright future for Elavon.

Learn more about Elavon